Inbound vs outbound marketing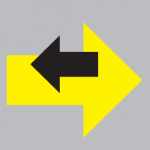 I'm often asked about the benefits of inbound marketing over outbound marketing. But in reality the 2 strategies do 2 very different things.
Let's take a look at inbound marketing. Firstly what is it and how does it work?
The idea behind inbound marketing is driven by the idea that you can reach and engage your target market though digital channels (email, PPC, SEO, socail media et al) with the sole aim of driving traffic to your web site. And, if your web site's good enough, they'll call you. Nice idea. And theirs plenty of B2B advocates of this strategy, If you're a knowledge business and you're in the business of generating leads through 'White Paper's', conferences, exhibitions, key note speakers, article writing, blogging then this could be an easier alternative to connect with your target market.
Inbound marketing has some real benefits
People are 3x more likely to buy from some they know like or trust of a link to content that gets shared is going to have more buying potency than an ad.
Your content will go viral if its good enabling you to reach prospect beyond the shores of your traditional market.
Inbound marketing enable organisations to personalise messages to highly segregated audiences and interest groups – this has the potential to deliver higher response rates and build longer term relationships.
Inbound marketing does have some limitations. Here's a few…
Not everyone wants to call you, even though their interested in your product/ service
Some web sites are better at converting than others. You'll need to invest in developing the right messages for each visitor
You can paid a mild fortune to get the click you need
You could be competiting in a highly compeitive arena for the keywords your trying to get listed for.
Certain digital channel (like email) are starting to deliver less response.
PPC is getting more competitive – so it's becoming harder to justify, compared to SEO activity
This is where outbound marketing still has a place in the killer B2B marketing strategy. When was the last time you recieved a piece of direct mail? It's becoming something of a novelty. I produced a desk drop last week and the response was amazing – people are obviously getting tired of emails and LinkedIn ads.
Outbound still has a place within the inbound marketing approach. Web site anaylitic software now enables marketers to see who's visited their site and draw a list for future outbound telemarketing. This sort of behavioural insight ensures outbound calls are never 'cold' they're more informed and as a result, better conversations take place. Resulting in longer term relationships being built.
So, in reality, their are not 2 strategies going on here. Outbound marketing and inbound marketing work better together.
If you'd like help adopting the right marketing strategy for your organisation and would like to talk to an expert on the best approach to take feel free to get in touch. We'll ask some questions and some work out what's going to work best for you. Get in touch here.